Outdoor kitchens are becoming a popular trend in modern home design. They provide a perfect spot for entertaining guests, enjoying family meals in the fresh air, or a quiet morning of reading and coffee. If you're considering an outdoor kitchen but aren't sure where to start, we've got you covered. Here are the 5 best outdoor kitchen ideas that will transform your backyard into a functional and inviting space.
The Barbecue Master
For those who love to grill, a barbecue-centric outdoor kitchen is a must-have.
Built-in Grill: Install a built-in grill for a seamless, professional look.
Grill Accessories: Consider adding grill accessories such as a rotisserie or a smoker for diverse cooking options.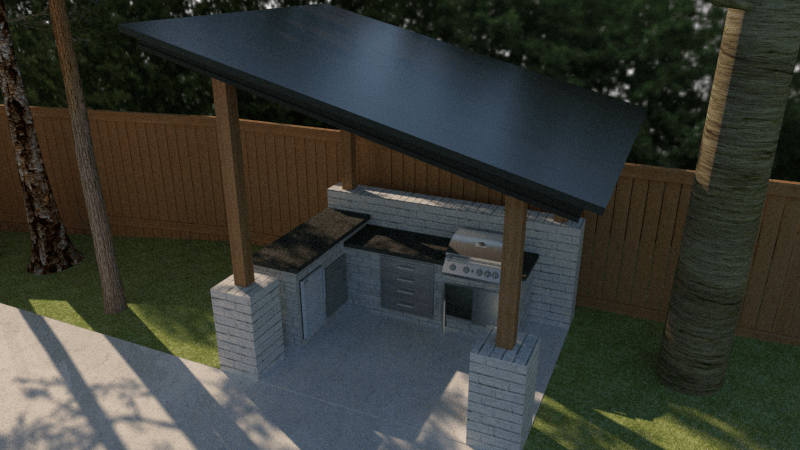 The Poolside Retreat
If you have a pool, why not pair it with an outstanding outdoor kitchen?
Wet Bar: A wet bar close to the pool is convenient for serving drinks.
Lounge Seating: Include comfortable seating for dining and relaxation.
The Pizza Haven
Bring Italy to your backyard with a pizza-themed outdoor kitchen.
Wood-Fired Oven: The centerpiece of this kitchen is a wood-fired pizza oven.
Pizza Prep Station: A dedicated prep station is handy for assembling your favorite pizzas.
The Farmhouse Style
A rustic, farmhouse-style outdoor kitchen gives a cozy and homely feel.
Rustic Wood Elements: Use reclaimed wood for cabinets and countertops.
Vintage Decor: Vintage accessories can add a touch of nostalgia.
The Minimalist Modern
For a sleek, clean look, a minimalist modern outdoor kitchen is ideal.
Stainless Steel: Stainless steel appliances and countertops give a modern vibe.
Clean Lines: Opt for a simple, uncluttered design with clean lines.
FAQs
What are the best options for a kitchen outside?
Outdoor kitchens should be made from durable materials that can withstand the elements. Stainless steel, concrete, and natural stone are popular choices.
Do outdoor kitchens increase the resale value of a house?
Yes, outdoor kitchens often add value to your home. They are a sought-after feature for many homebuyers.
Do I need a permit to build an outdoor kitchen?
Permit requirements vary by location and the complexity of your design. Before starting any kind of construction, it's smart to get the OK from the local authorities.
Conclusion:
With these 5 best outdoor kitchen ideas, you can create a backyard oasis that suits your lifestyle and aesthetic preferences. Whether you're a barbecue enthusiast, a pizza lover, or a fan of sleek, modern designs, there's an outdoor kitchen idea perfect for you. Don't hesitate to explore these ideas and transform your outdoor space into a remarkable kitchen area perfect for relaxation and entertainment. Remember, your outdoor kitchen should reflect your personal style and accommodate your cooking habits. With thoughtful planning, you can bring your dream outdoor kitchen to life. Happy outdoor cooking!